"Urjit"
Research on Mom & Child recipe
"An interactive research to develop the recipe that indulges both Mom & Child together with no fuss"
We want to hear more closer
After 5 long years listening to customers & customizing recipes for them, we wanted to research much deeper and so requested one of our dearest customer to join us. She happily volunteered us with all her extended support.
"Urjit" is an user research where an User will be provided with the required data & the data will be collected from them on their needs, their zone of interest, wants, limitations etc. Using these inputs creatively, we will curate a magical recipe that will be indulging both mom & child with no fuss.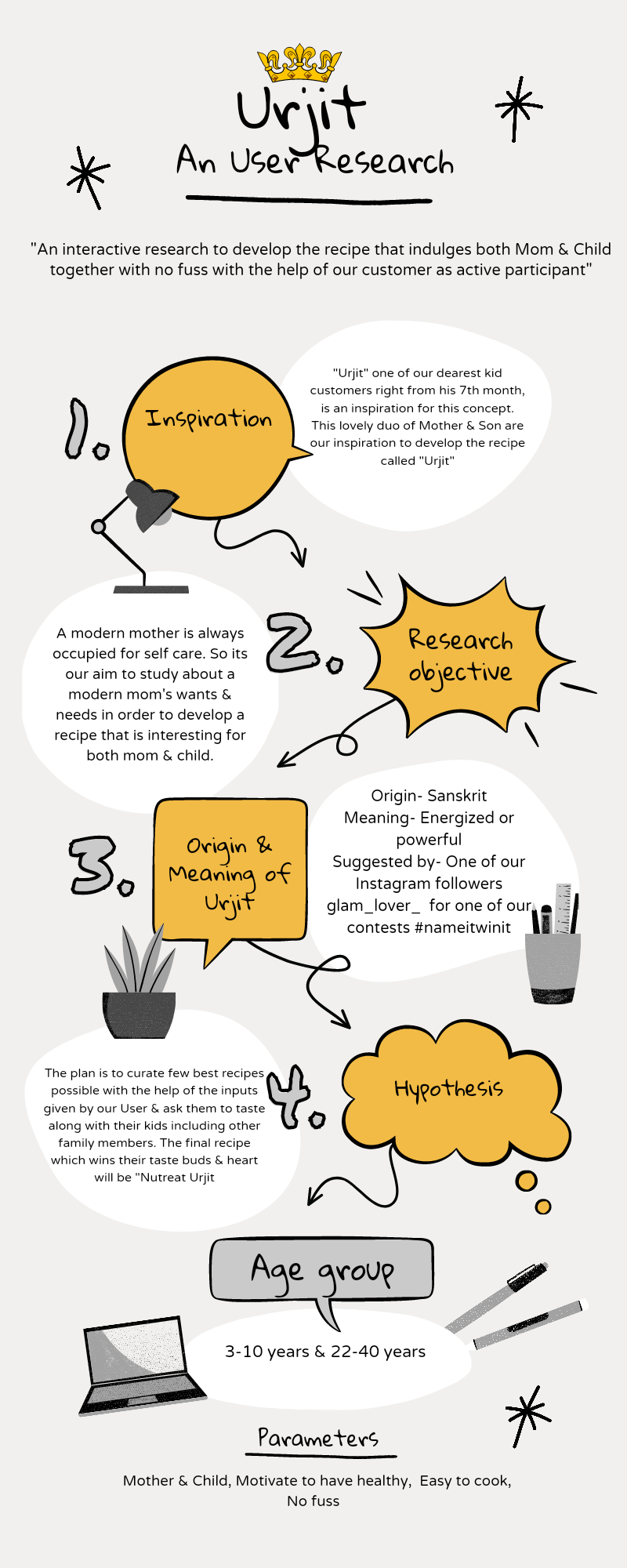 RESEARCH METHODOLOGY- User research
Research Objective-
Modern times has given us more challenges despite of advancement in technology, people has lots of options to be more junky, however after pandemic people are moving & searching for good & healthy alternatives in food.
However a Modern mother is always occupied for self care. So its our aim to study about a modern mom's wants & needs in order to develop a recipe that is interesting for both mom & child.
The plan is to curate few best recipes possible with the help of the inputs given by our User & ask them to taste along with their kids including other family members. The final recipe which wins their taste buds & heart will be "Nutreat Urjit"
User will be provided with Minimum of 5 recipes every month curated as per her inputs & will be requested to taste & check.
A form to share with her family/friends to collect the inputs required to design the recipe.
Samplers for her family/friends according to request & Inputs.
Age group-
3-10 year old & 22-40 year old​
User-
Child & Mother​
Location-
Hyderabad
Timeline
1-10-2021 to 1-12-2021
Request to the User